Present a travel ticket to parents at the wedding! Explain the budget and details you care about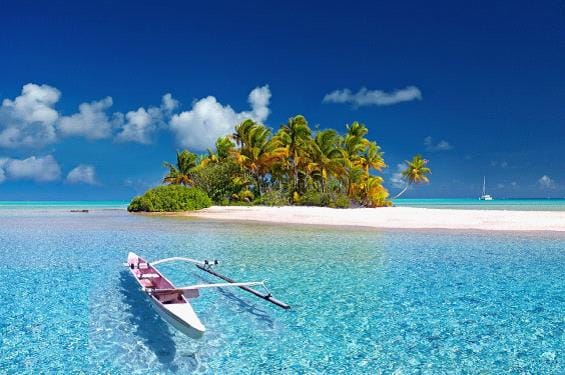 If you want to give your parents a gift at the wedding, a travel ticket is recommended. Especially if your parents love to travel somewhere every year, a travel ticket gift is the best choice. However, for those who have never purchased a travel ticket, there are many points to worry about such as budget and details.
This time,If you are planning to present a travel ticket to your parents at a wedding, we will introduce the travel ticket budget, details, and precautions.If you plan to purchase a travel ticket, please present this article as a reference.
1. A travel voucher to present to parents at a wedding? What is the reason for the recommendation?
Many people want to give their parents a present at a wedding occasion. Weddings are a great opportunity to express your appreciation and give your parents what they like. if,If your parents like traveling, we recommend you give a travel ticketTo do.
The gift of a travel ticket that you can enjoy slowly after the wedding is the best filial pietyis. Of course, travel tickets are also a great gift for parents who do not usually travel. After the wedding, please enjoy the trip as much as you want.
Such a travel ticket,Available accommodation facilities are fixed or gift certificates can be given according to budget, such as gift certificatesUntil there are various types. We will introduce the types of travel tickets later, so please refer to them.
・ What is the budget for the travel ticket you are interested in?
Budget: 2 million yen ~
If you give a travel ticket to your parents,A budget of at least 1 yen is required for 2 yen per personIt becomes. Among many parents' gifts, travel is likely to be expensive.
If you want to enjoy your trip comfortably, we recommend a travel ticket of at least 2 yen for both parents. Also,If you want to give a high-ranking accommodation or travel abroad, be careful as it will cost about several hundred thousand yen. We recommend that you calculate how much you can afford before you give a travel ticket.
・ Are there any precautions when presenting a travel ticket?
What I want to be careful about when giving a travel ticket isexpiration date".Travel vouchers may have an expiration dateSo, let's have your destination selected as soon as you give it. In the case of an expiration date of about one year, it often expires while deciding the destination.
If you present a travel ticket at a wedding, you may want to confirm that you have decided where to travel. If you live close to us, we recommend that you decide where to travel. If you are really worried about the expiry date, please present an unlimited travel ticket.
・ I want to give a trip as a surprise ...
In order to surprise your parents, you may want to keep your travel gifts confidential and decide on a destination or plan and let them know. Even if you don't keep it secret at all, some people just want to ask only the destination and schedule, and then come up with the best plan to stay within the budget.
Certainly, you may be pleased with a surprise. But,Use caution, especially when traveling.
The way you enjoy traveling is individual.Many people want to decide on the details, such as what mode of transportation is good, what itinerary is ideal for acting within a reasonable range, and what they are particular about where to stay.
You also need to consider your health and physical fitness.
Therefore, it is often safer for parents to decide freely on travel. If you want to give a surprise travel, it is recommended that you make good communication on a regular basis and make a firm decision on what you want.
2. What types of travel tickets are there? Thorough introduction by type!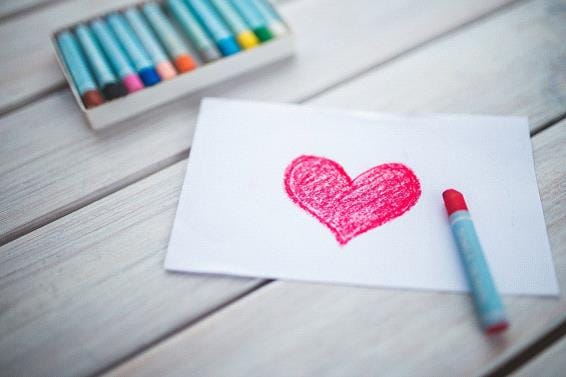 Recent travel tickets have evolved to meet your needs, and various types have emerged. Before you give your parents a travel ticket, first remember what type of travel ticket you have.
・ Gift certificate type
Gift certificate types are issued by travel agencies and airlines.The amount is determined for each travel ticket, and you can purchase the amount according to your budget.For example, JTB offers 1,000 yen, 5,000 yen, and 1 yen. ANA offers two types, 3 yen and 1,000 yen. A travel ticket is basically available in the issuing company.
The merit of the gift certificate type is that you can enjoy traveling according to your budget. Gift certificate type can be used freely at your own timing, so it is recommended for parents who are used to traveling to some extent.
・ Card type
The famous card-type travel ticket isJTB Travel Gift"is. Unlike gift certificate type,Price setting is wide from 5,000 yen to 50 yen. For example, if you want to give your parents a travel abroad, it is bulky if it is a gift certificate type. On the other hand, a card-type travel ticket can be set at a high price without taking up space.
Also, with JTB Travel Gift, you can print photos on a card or put a message on them, giving you a gift full of originality. If you have a certain amount of budget and plan to give a trip abroad, you should give a card type.
・ Catalog type
The catalog type is recommended for parents who have never traveled thereis. Like a catalog gift, the catalog is packed with travel plans tailored to your budget. You can choose your favorite travel destination from among them, so it is perfect for those who do not have much experience. Also, it is recommended for those who always get lost in the travel destination because they choose from fixed ones.
Recently, there is also a catalog compiled according to the characteristics of the travel destination, so you can choose according to your parents' hobbies.
3. What is the best travel voucher to present to parents at a wedding? Recommend recommendations!
Finally, if you are presenting to your parents at a wedding, here are some recommended travel tickets. There are many companies that sell travel tickets, but it is easy to worry about where to choose. This time, we will introduce 3 which has been carefully selected. There are plans that make it easy to choose any travel ticket, so please refer to it.
・ JTB gift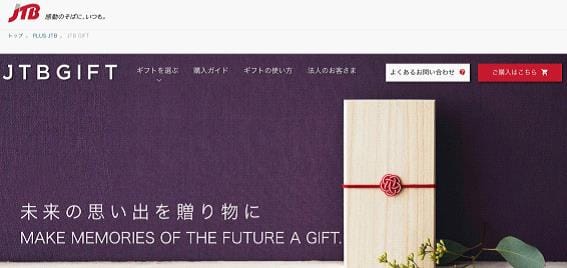 Source: https://www.jtb.co.jp/gift/
Amazon: Click here for JTB travel ticket
The most recommended item in this articleJTB Giftis. Including travel tickets,Abundant gifts for travelis. You can choose a travel ticket that suits your budget and your parents' preferences, so you have more flexibility. Currently, JTB Gifts offers the following travel-related gifts:
・ JTB Travel Ticket NICE TRIP
・ Card-type travel ticket Travel gift
・ Premium Accommodation Gift JTB Harmonyft
・ JTB Selectable Gift Tabikamonohana
JTB currently offers 4 gifts. First, check the characteristics of each to find a suitable travel ticket for parents.
"JTB travel ticket NICE TRIP] Is a gift certificate type travel ticket. You can purchase a travel ticket of the determined amount and present it.Domestic travelIt can be said that it is a travel ticket suitable for.
"Card type travel ticket Travel giftIs a travel ticket suitable for traveling abroad. The amount can be set from 5,000 yen to 50 yen, so you can go on a trip that is more expensive than a traditional travel ticket.Overseas and domestic luxury hotels and innsIf you want to use your travel ticket at, choose this gift.
"Premium Accommodation Gift JTB Harmonift"Is a travel ticket that allows you to enjoy a one-day, two-day trip from about 100 famous lodgings carefully selected by JTB. Every destination is committed to service, food and location. Especially because we are particular about hot springsPerfect for parents who like hot springsIt is a present. This gift is no matter where you choose to stay. The conditions are determined as "1 yen per room for two people per night."
"JTB selectable giftsIs a catalog gift that allows you to choose your favorite gift from a lineup of seven courses: Sakura, Kaede, Tsubaki, Azusa, Hiiragi, Tachibana, and Goku.Choose from low budget catalogs to expensive catalogs according to your budget. Remember that catalog gifts that include hotel or inn accommodations are top-level catalogs and require some budget.
In this way, JTB has a wealth of travel-related gifts. All of these are safe and secure services, so JTB is recommended if you are giving a travel ticket for the first time.
In addition, JTB travel tickets are highly customizable, including design changes, names, and photos. If you have any trouble choosing a travel ticket, consider JTB.
・ EXETIME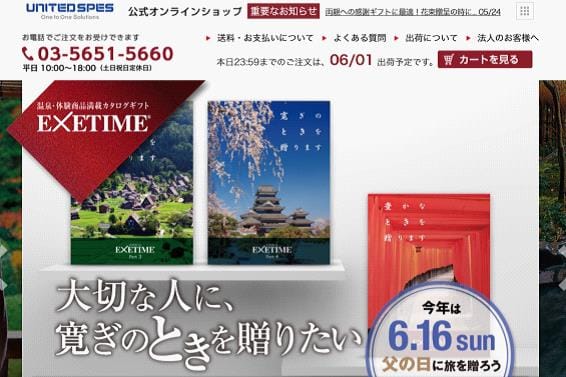 Source: https://www.exetime.jp/
EXETIME is a long-established hot spring and experience gift shopis. Starting in the late 1980's, we have been providing catalog gifts and have gained much support to date. There are five kinds of catalog gifts, Part1 to Part5, and the highest grade EXETIME (exe time) platinum.
Among them, accommodation plans are included in catalog gifts of Part4 or higher. Below that, Part1 to 3 are planned to be enjoyed only on a day trip or onsen.
In EXETIME (exe time),Prepare accommodation plans for 245 facilities nationwide selected from JTB customer surveys. With only carefully selected accommodation plans, you can give your parents a satisfying trip.
In addition, there are many elements to choose from such as catalog gift wrapping, cover, and paste, so various customizations are possible. Choose your own combination and present a catalog gift.
・ Ikkyu.com gift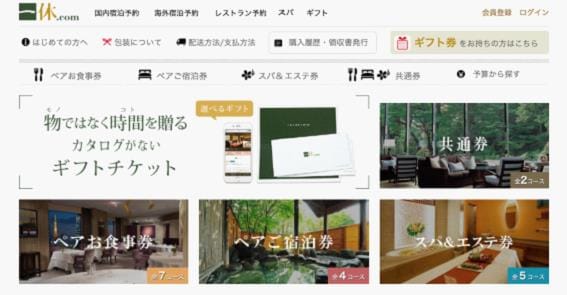 Source: https://shop.ikyu.com/
With Ikyu.com gift,Gift ticketsOffers. The person who received the gift ticketChoose your favorite plan on the dedicated site and apply yourselfShape. The lineup of gift tickets varies depending on the amount of accommodation.
-3 10,000 yen gift ticket 40 facility
-5 10,000 yen gift ticket 74 facility
-7 10,000 yen gift ticket 86 facility
-10 10,000 yen gift ticket 46 facility
With a holiday.com gift, travel tickets from 3 10,000 yen to 10 10,000 yen are available. The higher the amount, the more facilities that are lined up. Each gift ticket contains a certain amount of facilities, so you can give it away with peace of mind.
Summary
We introduced the travel ticket budget, details, precautions, and recommended travel tickets for parents who present their travel tickets to their parents at weddings. If you have somehow known about travel tickets before, please use this article to learn more about travel tickets.
Also, unlike previous travel tickets, current travel tickets are evolving. It ranges from card types with a wide range of money to catalog gifts that can be selected from a number of accommodation facilities. From the recommended travel tickets introduced this time, please present a travel ticket that suits your budget and family preferences.
There are many people who want their parents to spend a long time after their wonderful wedding anniversary. At such times, gifts of travel tickets are especially appreciated. Let's present a travel ticket suitable for a wedding present while remembering the smile of parents!
I want to give it to my parents at the wedding! A thorough introduction to the 7 selection of stylish presents with a good sense