What is smart marriage? Introducing how to set up an ideal wedding with a modest budget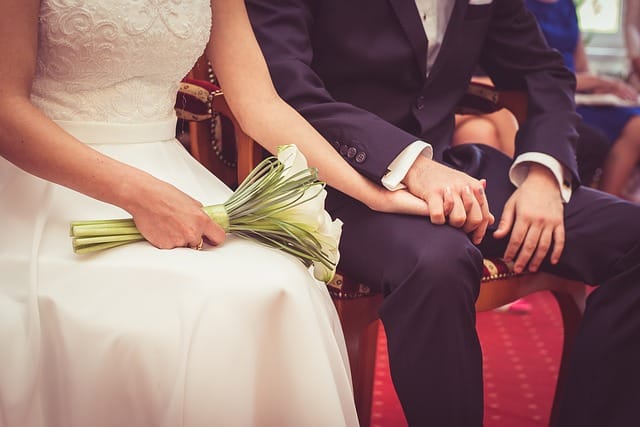 Have you ever heard of getting married?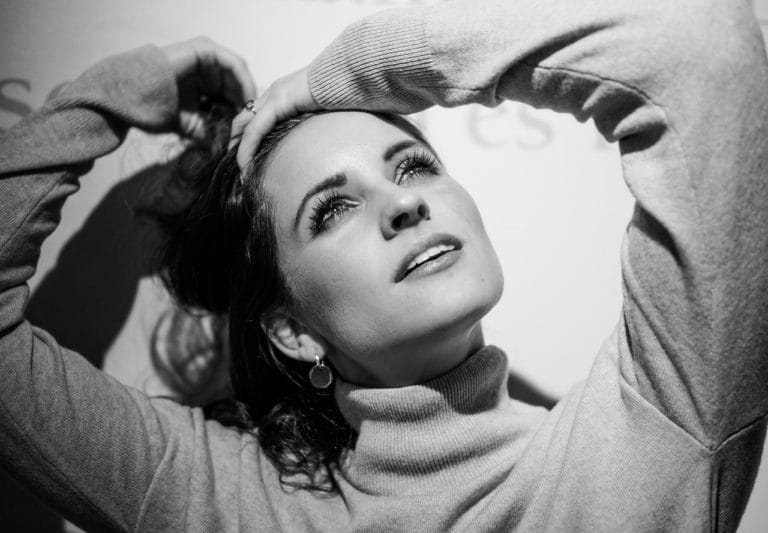 I want to have a wedding, but there is nothing ahead of it ...
I want to keep my budget as low as possible and have a wedding without difficulty.
Many people think so.
In general, you will have to spend a lot of money on a wedding.
If you get a wedding even if you are on a budget, you may be thinking that the bride and groom will endure themselves, or that they will make their own wedding by taking out a loan and paying for money.
There may be a way to give up the wedding because you have no money. However, it is inevitable to give up immediately.
Smart marriage is a method that has attracted particular attention in recent years, and it is possible to achieve a wedding of your own while keeping a budget low. This time, I will introduce smart marriage for those who are worried that they can not afford enough money.
1, what is smart marriage?
The current price of the bridal industry is too high. I want to reduce the number of brides and grooms who can not have a happy wedding because the price is too highWedding plan that offers low price and high service.
With smart marriage, it can be realized at a much lower price than the general wedding fee. The big advantage is that even those who have given up in terms of cost can easily raise a wedding.
Why is it cheaper for 2, smart marriage?
In the bridal industry, fees are charged at various locations.
I often hear people say that with the option, it was much more expensive than planned.
Some of them are price setting that surprises you, "Is this so expensive?"
SuchThe idea of ​​smart marriage is to eliminate unnecessary costs in the bridal industry.
Eliminate unnecessary parts completely. Realize low price by changing the parts where price reduction is difficultI do. Thus, smart marriage is cheaper and higher quality than general weddings.
But is it really cheap? You may be wondering. Specifically, let's see what leads to lower prices. Eliminate the unnecessary costs of:
■ Eliminate up-sales
In general wedding preparation,Average 7-8 times by the day of the weddingWe will have a meeting.
Each time you make a meeting, you will receive a proposal to upgrade the plan.
Therefore, the estimated amount tends to increase each time a meeting is held. There are many people who are worried by the bride and groom, saying, "I can't help but I'm afraid."
Since weddings are everyone for the first time beginners, the process proceeds with a conviction as to what a meeting is like, and once the ceremony is over, it will cost more than the original planned amount.
■ No carry-in fee
In many weddings, intermediaries other than those specified by the wedding hallIf you bring in costumes or gifts required for the wedding, you will need money with a plus fee called carry-in fee.
If you are particular about preparing a gift, or if you want to choose a good one while keeping your budget low, you may be able to realize the particular part of the program, but it will be more expensive.
However, many brides want to be particular about their costumes.
There are many people who want to borrow from other places because they don't like the costume store designated by the wedding hall, so I'm glad that such a carry-in fee is unnecessary.
■ No advance payment required
Do you know what the average cost of a wedding is?
About300 million yen to 400 millionIt is said that.There are many places where you need to pay up to half of the cost as a deposit before the wedding.
If you have savings for the bride and groom in preparation for the wedding, or if you have the support of your parents, you can pay. But I don't think anyone can afford millions of funds.
Therefore, a large loan is set up to give a wedding, and the total amount is more than the wedding.
So wedding moneyYou can pay more than half at the celebrationTherefore, many people want to pay after receiving a celebration. Since this is achieved in smart marriage, it is easy to name a wedding even if you are not confident in your savings.
■ Eliminate bridal prices
Many wedding venues have their own venues, and most of them have a partner. As a result, extra costs are incurred due to the cost of building and maintaining the building and the relationship with contractors that are unlikely to reduce prices, resulting in higher prices.
However, the venue for smart marriage is like thatIncorporating a mechanism that does not result in high pricesTherefore, a cheap wedding can be realized.
Flow up to the wedding! Introducing the basic flow from proposal to wedding preparation!
3, where is the place for Suma marriage?
Some people think that the venue is limited because it is cheap.
But smart marriageIt is deployed nationwide and you can have a wedding anywhere.
No matter where you live, it is convenient because there are so many options.
You can also have a meeting at the Suma wedding venue in the area where you live, so you can even have a wedding at the local wedding hall of two people.
4, how many costumes are there?
Bride wants to have as many types as possible because she wants to dress and dress her favorite.
thereIn smart marriage, 400 brands, 5 or moreYou can choose your favorite from among the costumes.
How far can you stick to 5, production and items?
The same production as a typical wedding hall can be performed, and in addition, items are also available.
for that reasonLower costs don't mean you can't do what you wantPlease be assured.
6, what is included in the plan?
Wedding ceremony (in-house banquet ceremony), marriage certificate, main table, flower arrangement, guest table, bouquet, boutonniere, moderator, meeting, exclusive planner, program creation, hair makeup, rehearsal
Dressing / Hair / Make-up, Bridesmaid (Attend staff), Invitation / Venue map, Seating table / Title tag
Including a good name book, a welcome board, a celebration bag, etc., it is a little less than 8 10,000 yen.
If it is all this, you can have a wedding without any problems.
How to make a wedding that is satisfying even at a cheap price
I want to borrow a dress cheaply and wear my favorite dress!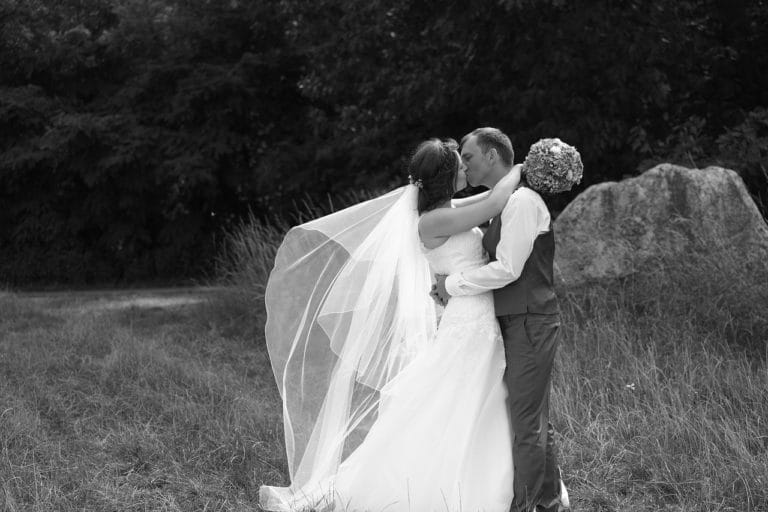 I want to borrow a dress cheaply because it costs money. However, what I like at the wedding hall is a little lost at a high price, but I don't want to wear a dress that I don't like ...
Since this is a precious wedding, I would like to introduce tips for the bride to wear a dress cheaply without putting up with it.
1, the reason why the dress of the costume shop that the wedding hall is affiliated with becomes high
If you participate in the bridal fair several times, you will find that the wedding dress must be chosen by the costume shop that the ceremonial hall is affiliated with.
そのThe number of affiliated costume shops varies depending on the ceremony hall, and the number you can choose from 1 to 10is. And when I visit the wedding hall to raise my wedding,Select the costumes of the costume shop specified by the ceremony hallWill be
I'm sure the question comes to mind, but why does the ceremony hall, not ourselves, specify the costume shop? about it.
This is because when the bride uses the designated costume shop and the bride closes the dress, a kickback is paid from the costume shop to the wedding hall.
Kickback fees vary depending on the store, but there are places where 40 ~ 50% are high. If that happens, the costume shop will pay about 20 million yen to the wedding hall even if they sign a dress for 10 million yen.
If the commission is subtracted from the sales by half, the costume shop will lose the profit. As a result, the cost to pay for the ceremony is often added to the price of the costume in advance, which increases the cost.
2 can be kept cheap by renting costumes directly at a costume shop
Some of you may be unaware of the mechanism that I just told you before, and say, "You can't help it because it's an alliance."
But there are many things that cost money for weddings besides costumes. So if you have a way to reduce the cost of costumes, you want to use it.
SuchTo keep your costume costs low, rent directly at the costume shop that sells the dress you want to wearabout it. It's very simple, but many people don't notice it.
By the way,Even if you rent through the ceremony hall, even if the dress is close to 40 yen, renting directly at the costume shop will cost 25 yen.
Then, ask your wedding planner if you can borrow it directly at the costume shop and bring it to the ceremony hall.Carry-on feeWill be talking about.
3, how much does it cost to bring it in?
Almost every wedding hall has an affiliated costume shop,If you bring a dress other than a costume shop, about 1 to 3 per pointA carry-on fee of yen may be charged.
The reason why the carry-in fee is charged is said to be a "storage fee" for securing space for storing hands and dresses.
It can be thought of as compensation for the kickback that would have been paid by a costume shop that you are affiliated with.
Therefore, let's calculate by the cost of borrowing a dress directly from the costume shop yourself + the cost of bringing in.
Even if you rent a dress at a low price, it can be expensive to combine with a carry-on fee.
However, there are cautions. Even if you rent a dress from a costume shop without checking with the wedding hall, there are some venues where you are not allowed to bring it in the first place.
If that happens, the rental fee will be just wasted, so be sure to check with the ceremony hall in advance.
What is the shortest way to rent a dress cheaply at 4?
In wedding halls, there are many places where the bride and groom are required to set a high carry-in fee and prohibit them from being used in the first place to prevent use outside of the partner.
Bride just wants to wear her favorite dress ... There is a reality that cannot be done even if she thinks so. That is exactly what can be a problem for brides.
But,In recent years, the number of wedding venues without a partner has been increasing, and it is becoming possible to have a wedding without such unnecessary expenses and restrictions.
One of them is a venue that offers smart marriage. If you are interested, please check it out.
How to actually bring costumes to the wedding hall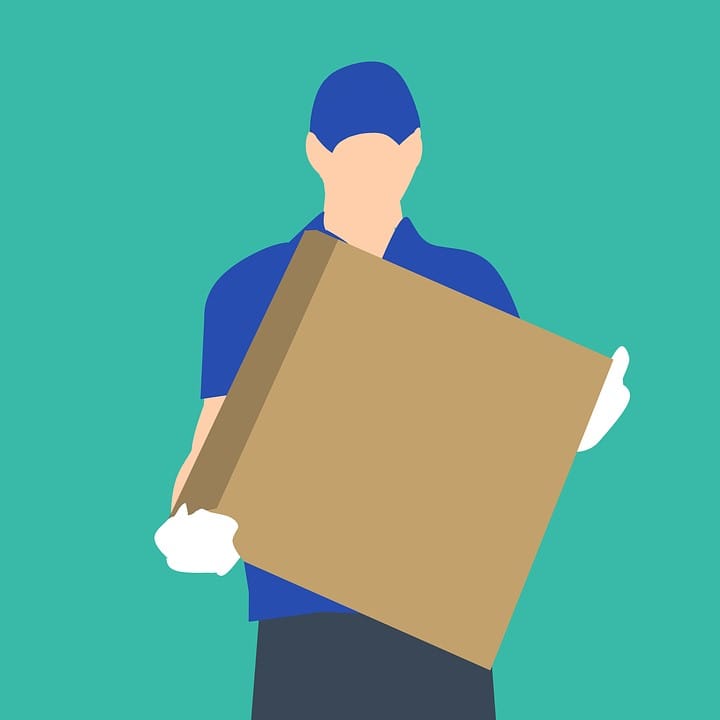 So far, we have told you that it may be possible to keep costs down by bringing costumes to the wedding hall.
So, if you are bringing in, here are some steps and what you should be careful about.
1 confirms whether it can be brought into the wedding hall
There are some things you must do first. that isCheck if the wedding hall you plan to use can bring your own dressIs to do.
This is because if you make a contract with the wedding hall without confirming it and choose a wedding dress, you will be wasting money and time if you can't bring it to the ceremony hall.
If you are told that you can bring it to the ceremony hall, be sure to check the next 2 points.
① Existence and amount of carry-in fee
Let's check the carry-in fee set by the ceremony hall for each dress 1 point.
At this time, you should negotiate well with the ceremony hall.
Instead of bringing in a dress, it is possible to reduce the carry-in fee by proposing merits for the ceremony, such as adding some options at the wedding.
② Setup when bringing in
The dress brought in,The rules of storage differ for each venue.
Where is the deposit place?
What will happen to the procedures for loading and unloading dresses?
Are dressing rooms and staff available for dressing available?
Let's check such things. Also check the setup when bringing in the dress.
2, bringing in dresses from a costume shop
① Check the information of the wedding hall to convey to the costume shop
Stylists in costume stores may not know the atmosphere and flow of the wedding hall. So where do you list your wedding and tell the atmosphere and scale of the reception?
It's even better to show the chapel and the banquet hall with photos. Share information with stylists to make it better on the day.
② Dress selection
The standard should be something that the bride will like. However, if other people want to hear their opinions, ask their relatives and professional stylists for their opinions.
③ Share confirmation items regarding carry-in
Inform the stylist of the necessary items (such as procedures for carrying in / out dresses and staff in charge of the ceremony hall).
Basically, most stores deliver dresses to the ceremony the day before the wedding, but there may be differences depending on the store. So don't forget to check in advance.
3, the stage when you bring your own clothes
Of course, there are times when you have to carry the dress in and out.
In that case, let's check the next 3 point.
① Confirm date and time at costume shop and wedding hall
・ Possible to bring in from the costume shop to the ceremony on the wedding day
・ Or is it necessary to take it home the day before?
・ How long can the wedding hall be kept at the ceremony hall?
・ Let's confirm the date and time of carrying in / out It's a good idea to keep in touch with each other so you don't miss them.
② Make arrangements for loading and unloading
Decide early whether you want to bring it with you or ask the carrier.
③Check if the costume is clean and there are no small items left behind
Check your costume for dirt before you bring it in. If you have worn it before, take more care.
Also, make sure to create a checklist to check for small items that you want to match with the dress, such as small items and bridal inners.
Summary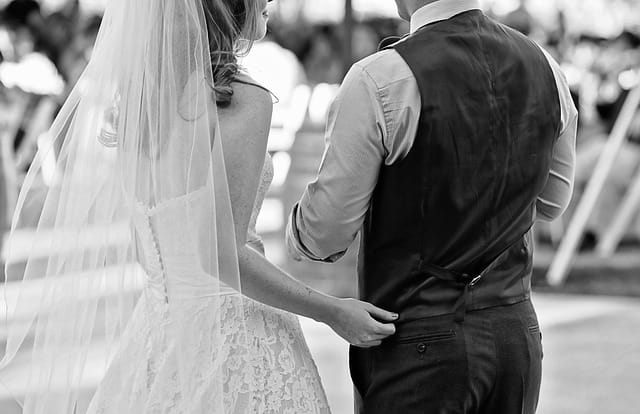 This time, we introduced how you can reduce the price so that you can choose a wedding dress that you don't want to compromise on.
However, if you want to be particular about the wedding venue, it is necessary to check in advance because the venue may be a carry-in fee or prohibited.
If you don't have a strong commitment to the venue, you can try the best way to wear the wedding dress you want.
The basic flow of wedding preparation! An easy-to-understand introduction to the wedding setup!