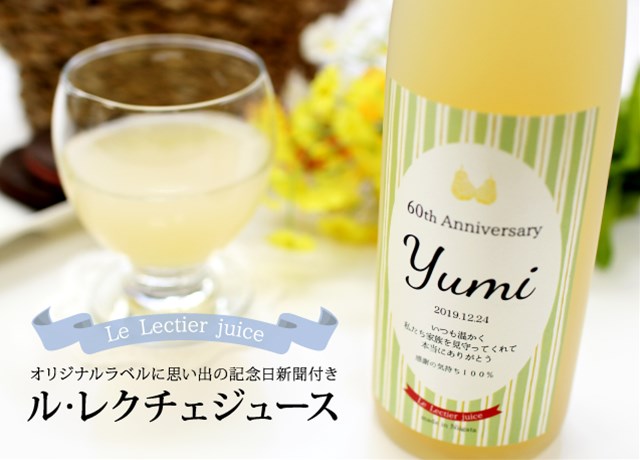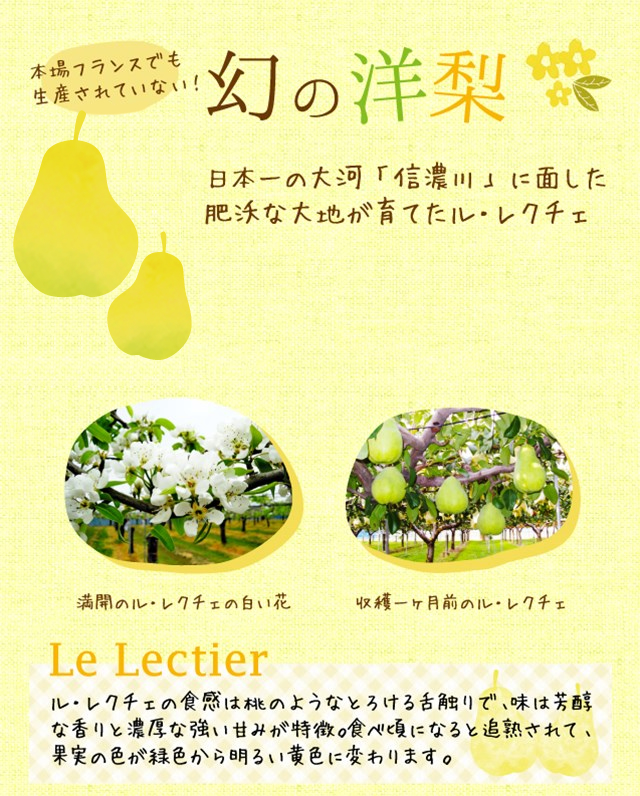 It is said that Niigata Prefecture occupies most of Le Rectier production in Japan. This name Le Lecce Juice Le Lecce was originally produced in Minami-ku, Niigata City (former Shirane City). Cultivation is very time-consuming and difficult, so the production is about one-tenth of La France, a very rare phantom pear.
This Le Lecce Juice was first produced in a farm that was certified as "Eco Farmer" in Niigata Prefecture. This juice is made with the thought that "I want customers to always enjoy the safest and safest delicious fruits." Even if it doesn't use sugar, it is sweet and you can enjoy the taste of Le Lecce. * Bottle opener is required for opening.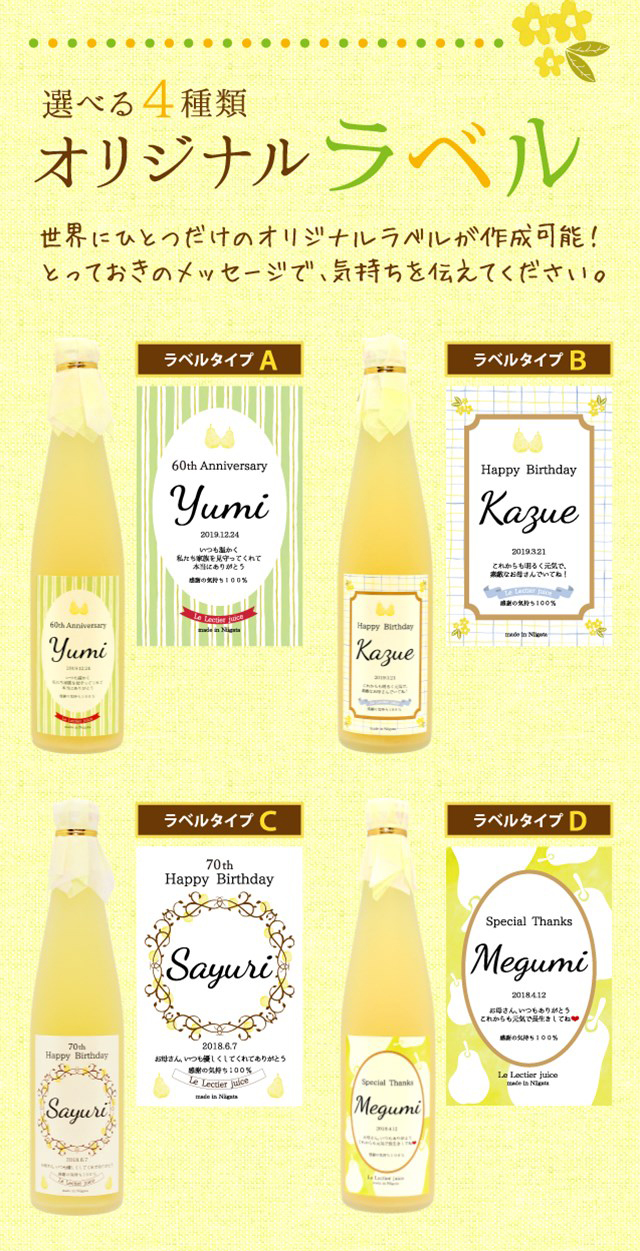 ☆ Labels using glossy paper produce a sense of quality
Type A is like a wine label with a stylish striped pattern.
Type B has a cute check pattern and a cute finish with sundries.
Type C has a simple and beautiful finish with a prominent name.
Type D is a pop-up and energetic impression of the punched Le Recche.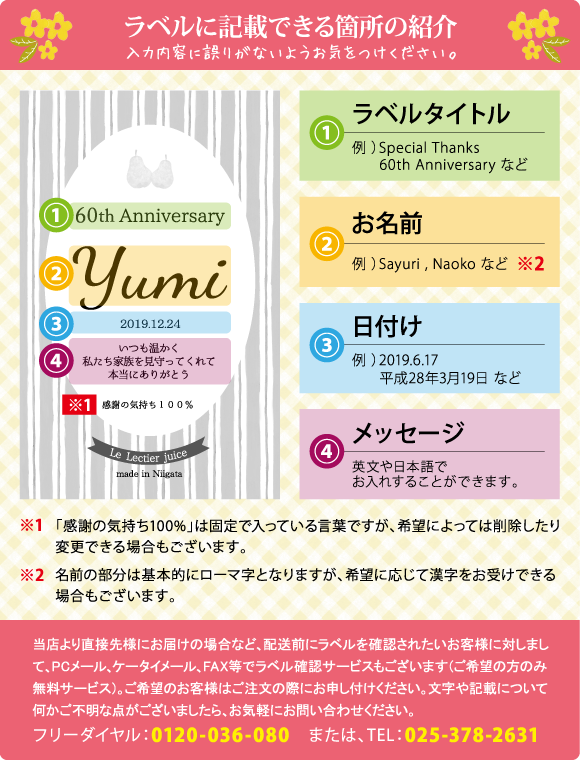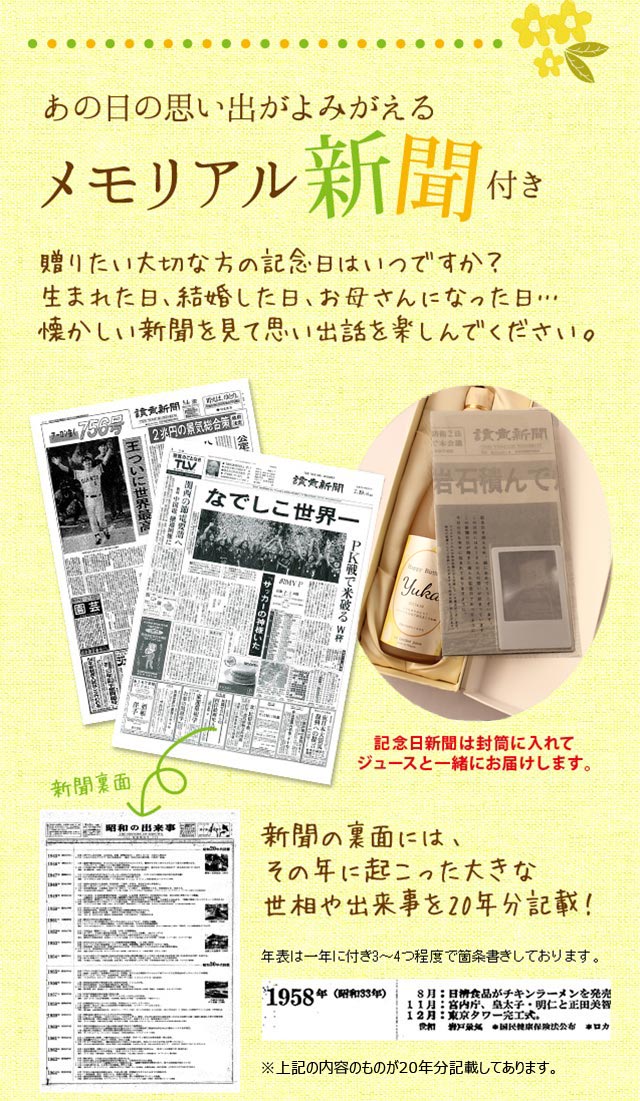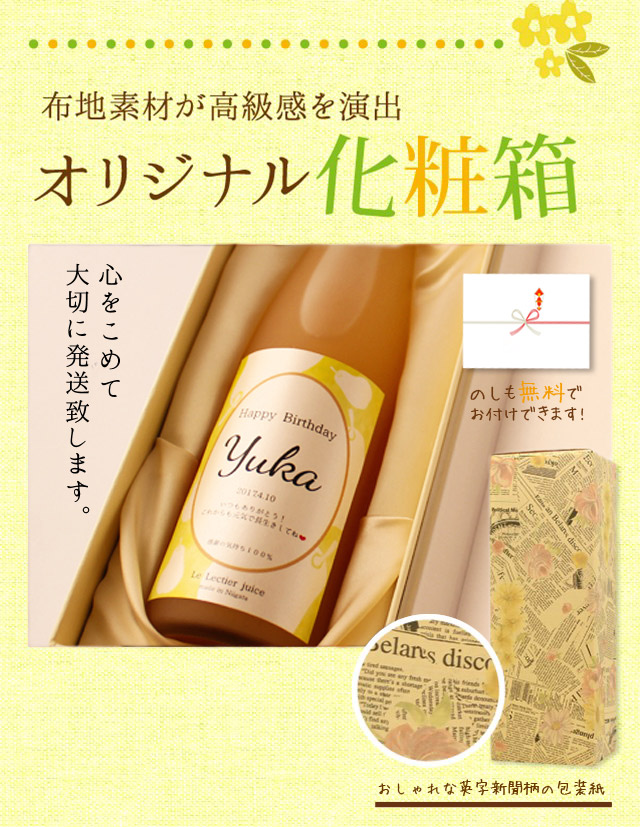 The outside of the cosmetic box is made of cloth material, and the inside is made of Bordeaux satin fabric, giving it a luxurious feel.The lid is engraved with "Celebrate Special Day" in gold letters.The cosmetic box will be wrapped in Western-style pattern wrapping paper, carefully wrapped in cushioning material (bubble wrap) to prevent damage, and then shipped in double packaging in a cardboard box.

Anniversary newspapers can be enjoyed on all anniversaries, not only on the day your father or mother was born, but also on the anniversary of your parents' marriage, the day you gave birth to your parents, etc. think.
In addition to the celebration of the 60th birthday, this product has also received many orders as a gift of gratitude to parents at retirement celebrations, gratitude gifts, and wedding receptions.
As for the delivery date, it will be possible to ship the same day (* 1) at the shortest. Of course, delivery orders are accepted up to 2 months in advance.
* 1: Only when there is no anniversary newspaper or when there is a stock of newspapers.
(Refer to the reference when selecting the newspaper date.)
● Newspapers in the early Showa era have many articles on war, and there are many photographs showing the social conditions during the war.
● The end of the war in Showa 20 (1945), the number of articles on political economy is overwhelmingly around this time. Also, about 10 years after the war (until the early Showa 30 years), it is also the time when the size of newspaper letters is the smallest, and there are also places where it is difficult to read.
● In the Showa 40 era, it will be a period of high economic growth, so you can see bright content that matches the social situation.
● The size of the letter increases with each generation. (Some postwar newspapers are about half the size of newspaper letters.)
This is a name order juice order form. Please input with reference to the sample.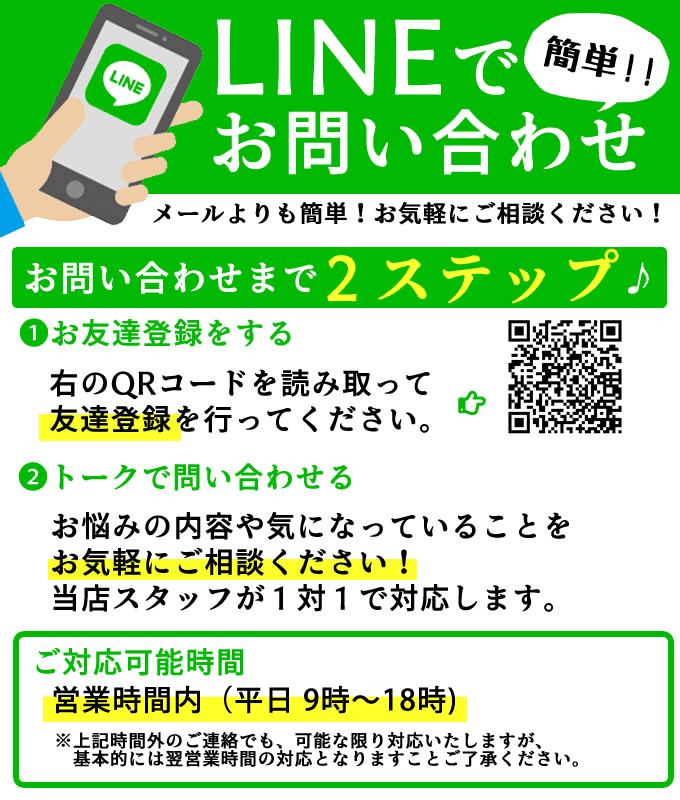 ◆ About payment method

▼ Bank ATM net banking settlement.

▼ Credit cards are handled by the following cards.
(VISA / MASTER / JCB / AMEX / Diners)

▼ Convenience store (number terminal type)
Convenience store settlement fee
Separate 330 yen
takes.
Seven-Eleven is not available.

▼ In the case of COD, there is a fee
Separate 330 yen
takes.
A delivery trader becomes "Yu-pack" or "Kuroneko Yamato".

▼ You can use Amazon Pay and Rakuten Pay for electronic money.


◆ About delivery
▼ Products will be delivered in "Yu-Pack" or "Kuroneko Yamato".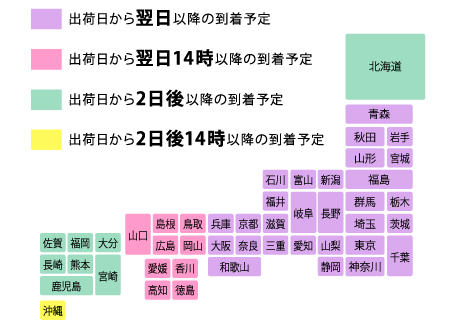 * Delivery may be delayed depending on the region, such as remote islands and mountainous areas.
▼ We accept time zones.

13 on our business day
Orders will be shipped immediately.
In addition, for ordered products and specific products, we will ship immediately after the arrival of the products. (The delivery date is written in the product information)
◆ About Shipping
Shipping costs vary depending on the destination area.
[Free shipping] If purchased at the same time, all products will be free shipping.
* Free shipping on all namesakes with newspapers.

▼ Packaging at the time of delivery
Please note that the packaging box at the time of delivery may be delivered in a different box from the product for recycling in our shop.
◆ Receipt / Invoice
If you want to send a gift directly to the other party, we will not specify the name of our shop, let alone the price of the delivery note.
If you wish to receive a receipt, etc., we will send it by e-mail.
◆ Handling of personal information
Important personal information (address, name, phone number, e-mail address, etc.) received from customers will never be passed on to third parties other than delivery work or misused. Please use it with confidence.